Home > Support > CDW Fix


Problems with CD Wizzard?
How to get CD Wizzard to retrieve CD data (again):

All the servers that CD Wizzard used to use have been blocked by
GraceNote, since they have started requiring royalties and licenses
for programmers to use their service.

You must add this new address to CD Wizzard using the instructions
below, to get CD Wizzard to retrieve CD data again:

o From the main CDWizzard screen top menu select OPTIONS.
o From the OPTIONS menu select INTERNET.
o On the CD INTERNET DATABASE TAB
o Check '[x]AUTOMATICALLY GET DISC...'
o Select option '[o]USE SERVER THROUGH FIREWALL'
o Change the port number to '8880'
o Change the proxy name to 'freedb.freedb.org'
The software can now retrieve CD data.

You will no longer be able to 'Send Data to CD Internet Database'
via the 'DISCS' menu selection unless you download this file: CLICK HERE!

If you have a slower connection, you may want to download the
self-extracting cdw.exe file instead: CLICK HERE!

Place it in your CDWiz directory and run it from the Windows
START >RUN prompt or MSDOS prompt. It will self extract.
You can then delete the file cdw_fix.exe, once it has extracted.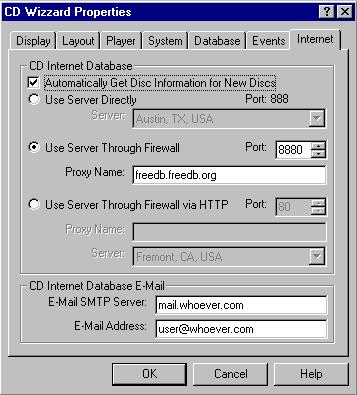 We are attempting to find another program to allow access to
the GraceNotes database. This will work in the meantime.

-Wintek Support-