Home > Products > AVC-1


AVC-1™ Stereo/Mono Automatic Volume Controller-$129.00
for normalizing volume levels on music, movies, and television programming.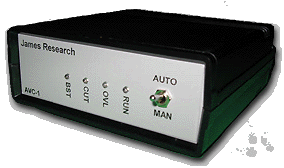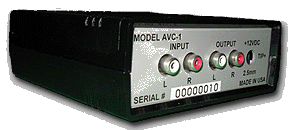 NEW from Wintek in May 2009! -- The AVC-1 is the answer to bringing enjoyment back to television watching and music listening. This unit controls those blasting volume levels that happen when your TV, Digital TV Box, Satellite or Cable goes from a TV show or movie into a commercial break. This incredible gadget features a microprocessor that continually monitors and controls the input volume level of your TV or Music signal. It automatically corrects it to universal line level standards so that virtually all material is played back at the same volume level. Sudden increases in volume are immediately reduced and adjusted to the same level as the main program material. Very low passages are automatically increased in level; this is to say that the output level stays consistent regardless of the input level.
This marvelous technology uses cutting edge technology to intelligently determine what the levels should be set to and does it almost instantly. The microprocessor continually searchs for changes in the content level to keep the levels of your music and TV consistently the same. Now heavily produced CD's will match correctly produced CD levels for great music mixes. Finally, the end to blasting music and annoyingly loud TV commercials!
The unit comes with a 12-VDC power supply and RCA-to-RCA input cable and connects to your system within moments without any tools and no electronic or computer knowledge required. Connect and forget. Just insert this device between the source (TV, CD player, Satellite Box, Digital TV Box, radio receiver, etc) and the amplifier. - from James Research. 30-day money back guarantee (not including shipping charges). One year limited warranty.
Download the online manual for more technical details. Questions? Call us or email us.